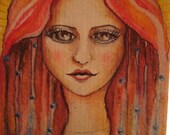 Frigga is the Norse Goddess of Fertility. She swirls the rain clouds around in her hands to release the rain onto the Earth, replenishing the land and restoring life.
This mini painting is done on 'rough' Aquarell Watercolour paper.
I used watercolour paint, soluable crayons, fineliner pen and 3D paint.
The size of this painting is 8x10.5cm
It looks great in a frame!
...
Click Here to Visit My Etsy Shop!